Resmål
Bäst på äventyr
Prisvärda resor
Book & Go
Norwegian Fjords and Polar Bears of Spitsbergen
Arctic
Startpunkt:
Bergen
Slutdestination:
Longyearbyen
Set sail from Bergen the gateway to Norway's fjords to the remote shores of Svalbard on this dazzling 15-day odyssey across the Norwegian Sea. Walk across the glaciers that carved the stunning landscapes, explore subarctic islands by Zodiac in search of polar bears, walk through history at UNESCO-protected historical sites, and much more. Don't merely pine for the fjords; find them.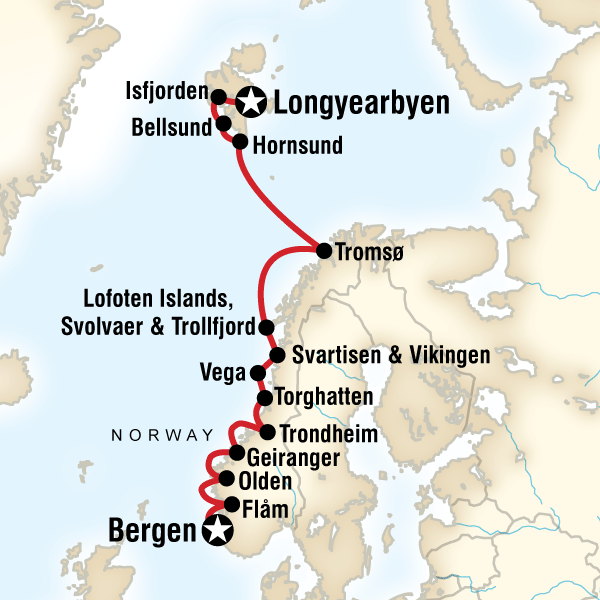 Transport
G Expedition, Zodiac, local bus, coach, walking.
What's Included
14 nts aboard the G Expedition. Meeting point to ship transfer. Zodiac and land excursions with our expert expedition team. Lectures and educational programs. Fla¥m Railway excursion. Olden visit. Geirangerfjord visit. Trondheim excursion. Vega Island visit. Sanna Island visit. Wildlife spotting opportunities. Tromsa¸ excursion. Hornsund visit. Bellsund visit. Insulated, waterproof boots supplied for USA sizes 4 - 16. Expedition parka.
Accommodation
Aboard the G Expedition in quad-, triple-, twin-share cabins, or suites (all with en suite bathrooms and porthole or window, 14 nts). Please note that all cabins consist of twin-size berths and are ocean-facing. Suites have one queen-size bed.
Highlights
Cruise through some of Norway's most famous fjords, Wander through fishing villages and appreciate the slow pace of life, Search cliffs for trolls, Enjoy some of the world's most beautiful scenery along Norway's rugged coastline, Sail past mist-shrouded Bja¸rna¸ya - a bird watcher's paradise featuring spectacular views
TRIP
Day 1 Bergen (1D)
Welcome to Bergen, in Norway's fjordland. Embark in the afternoon to begin your adventure. We recommend arriving to Bergen early to explore on your own.
Day 2 Fla¥m (1B, 1L, 1D)
Hop on the Fla¥m Railway, travelling through valleys and mountain passes to reach the scenic fjord of the Fla¥m district.
Day 3 Olden Fjord/Birksdal (1B, 1L, 1D)
Cruise into the Olden Fjord before a short bus ride to the Birksdal area. Enjoy a moderate walk to Briksdalbreen glacier, or, for an easier option, take a trolley ride with a shorter walk to make it to the glacier lake.
Day 4 Geirangerfjord (1B, 1L, 1D)
Sail deep into one of Norway's most beautiful, and most visited, fjords, Geirangerfjord. Enjoy a coach tour to Dalnibba, soaking in the views at this UNESCO World Heritage site. For the more adventurous, opt for a 10km mountain hike exploring the area and taking in amazing views of the fjord from above.
Day 5 Trondheim (1B, 1L, 1D)
Continue on to Trondheim. Choose between hiking in Bymarka Nature Reserve before visiting the Sverresborg Folk Museum, or enjoying a city tour including the Folk Museum and the elaborate Nidaros Cathedral, built between 1070 and 1300. Enjoy a free afternoon to explore the area on your own.
Day 6 Torghatten/Vega (1B, 1L, 1D)
The rugged coastline of central Norway features some of the world's most beautiful scenery. The captain will negotiate with local Norwegian pilots to determine our best Zodiac landing options. Hike up to the famous hole in the mountain, with fantastic views of the region. Keep an eye out for Norway's mythical trolls. In the afternoon, head to the quaint and picturesque Vega Island, a UNESCO site. Wander the fishing villages, go on a guided nature hike, and appreciate the slow pace of life.
Day 7 Svartisen/Lovund/Vikingen (1B, 1L, 1D)
Visit Svartisen, Lovund, and Vikingen, to see beautiful glaciers and a globe sculpture which marks Vikingen as a point directly on the Arctic Circle.
Day 8 Lofoten Islands (1B, 1L, 1D)
The Lofoten archipelago is an enchanting area of picturesque villages by the sea backed with jagged peaks. Go ashore by Zodiac for a day trip of the area. Start by visiting the Ta¸rrfiskmuseum to learn about traditional work of the islands before visiting Nusfjord, one of Norway's oldest and best-preserved fishing villages for lunch at a local restaurant. After, stop in Henningsva¦r for time to see local art or explore the quaint fishing village. In the evening, stay on deck as you cruise into one of Norway's most famous fjords, the short yet dramatic Trollfjord. Search the cliffs on your continuing quest to spot trolls.
Day 10 Tromsa¸ (1B, 1L, 1D)
Tromsa¸, the capital of northern Norway, is known as the "Gateway to the Arctic" as it was the embarkation point for many Arctic expeditions. Learn about past Arctic expeditions and opt for some hiking or to explore the city on your own.
Day 9 Lofoten Islands (1B, 1L, 1D)
Continue exploring the beautiful Lofoten Islands, a spectacular location for spotting marine wildlife.
Day 11 At Sea/Bja¸rna¸ya (1B, 1L, 1D)
Sail past mist-shrouded Bja¸rna¸ya (Bear Island) a birdwatcher's paradise featuring spectacular views.
Day 12 Hornsund (1B, 1L, 1D)
Explore this archipelago of deep fjords, mountains and massive ice sheets. Keep your eyes open for walruses, seals, reindeer, Arctic foxes and, of course, polar bears.
Day 13 Svalbard (1B, 1L, 1D)
Soak in the sights and sounds of Svalbard. Glaciers, nesting birds, sea mammals like polar bears, walruses and whales plus land mammals like the Arctic fox and reindeer all call this region home.
Day 14 Svalbard/Longyearbyen (1B, 1L, 1D)
Continue exploring the icy wonderland of Svalbard.
Day 15 Longyearbyen (1B)
Disembark the G Expedition in the morning.
Boka nu