Resmål
Bäst på äventyr
Prisvärda resor
Book & Go
Slovenia Hike, Bike & Raft
Europe
Startpunkt:
Bled
Slutdestination:
Bled
Set in the Alpine town of Bled, experience a week of variety and multi-sport activity high up in the mountain air. Cycle through dense forest along countryside tracks, hike in the famous Julian Alps, or get to know the mountains up-close-and-personal by caving or taking a canyoneering expedition. Walk in the footsteps of many explorers before you as you hike routes that have been famous for years. After the day's adventuring is done, soak up the culture of Slovenia through Bled's quaint hotels and restaurants. Slovenia's a hotbed for adrenaline rushes go get yours.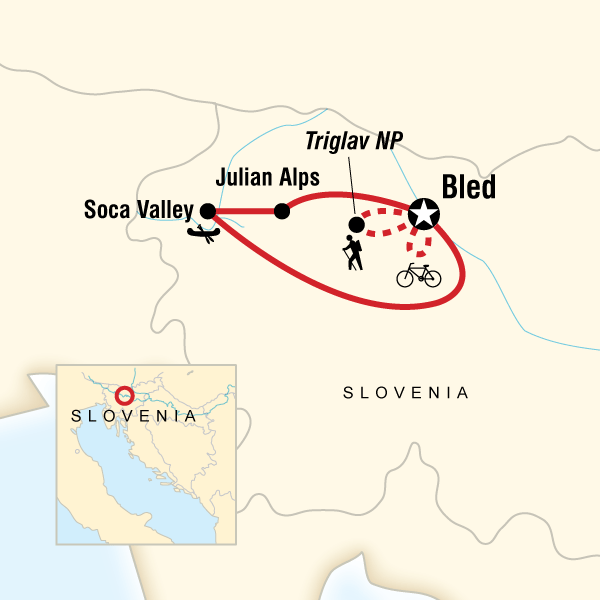 Highlights
Mountain bike on country tracks around Bled through villages and green forest, hike along famous mountaineering routes in the Julian Alps, get immersed in the mountains and rivers with caving and canyoneering expeditions, fly over the trees on a zipline adventure.
Transport
Bus, bike, raft, walking.
Accommodation
Basic hotel (7nts)
What's Included
Mountain biking around Bled. Hiking in the Julian Alps. Canyoneering and ziplining in the Soca Valley. Whitewater rafting (full-day). Caving activity. Transport between destinations and to/from included activities.
TRIP
Day 1 Bled
Arrive at any time.
Day 2 Bled (1B)
Bled's tranquil mountain setting is an ideal place for a full day of mountain biking.
Day 3 Bled (1B)
Raft the waters of the Gorenjska region on a full-day rafting excursion. Start with a few easier rapids to get used to the water before a more challenging end to the day.
Day 4 Bled (1B)
Enjoy a free day to explore this picturesque town. There are a wide variety of walking and cycling trails around town and a myriad of optional activities.
Day 5 Bled (1B)
Make use of the unique landscape around Bled today by canyoneering through rivers and ravines. Later, adventure through the treetops on a tree canopy obstacle course.
Day 6 Bled (1B)
Spend the day inside the mountains on a caving expedition. The natural beauty of the caves inside the Julian Alps gives a different perspective on the landscape, and a morning exploring this underground system is an ideal way to see the scenery.
Day 7 Bled (1B)
Famous as a resort for mountaineering, the region around the Julian Alps is perfect for hiking. Follow one of several trails that lead toward Mt Lipanca, covered in pine forest jutting through the jagged rocks, and soak in spectacular views across the Alps from the mountainside.
Day 8 Bled (1B)
Depart at any time.
På förfrågan