Resmål
Bäst på äventyr
Prisvärda resor
Book & Go
Falls, Beaches & Serengeti Adventure (Northbound)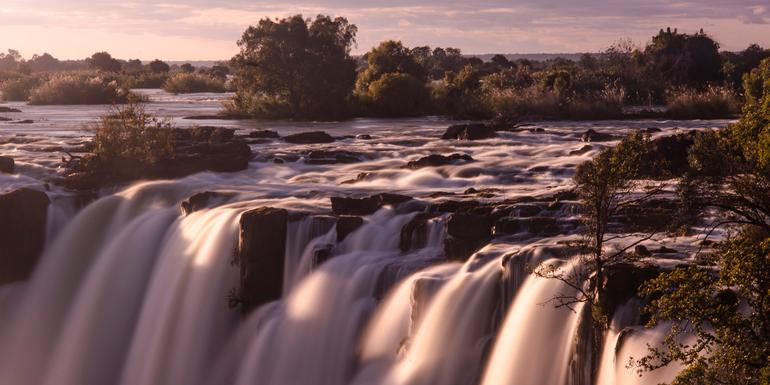 Africa
Startpunkt:
Johannesburg
Slutdestination:
Nairobi
Connecting two major hubs, this overland journey will take you from Johannesburg to Nairobi and into the stunning wilderness of the seven countries that lie in between. Track Africa's Big Five on safari drives in the Serengeti and Ngorongoro and head to the Okavango Delta for a wildlife walk and mokoro canoe excursion. Inhale the mists of Victoria Falls and the fragrant air of spice plantations in Zanzibar. You'll make your discoveries from a rugged Lando, ready to take on Africa. Combine this with bush camping, a social atmosphere, and a comprehensive itinerary and you have one hell of an adventure.
Accommodation
Participation camping (19 nts), full-service camping (2 nts), simple hotels (4 nts), bush camping (1 nt).
Transport
Lando (overland adventure vehicle), 4x4 safari vehicles, ferry, mokoro, walking.
Highlights
Marvel at Victoria Falls, experience wildlife safari drives in Serengeti National Park and the Ngorongoro Crater, spend three glorious days on exotic Zanzibar, camp overnight in the Okavango Delta, Embark on a walking safari in South Luangwa National Park, Spot rhinos at the Khama Rhino Sanctuary, Sleep beneath baobab trees
What's Included
Your G for Good Moment: Lusumpuko Women's Club Lunch, Victoria Falls Your G for Good Moment: Tribal Textiles Market & Courtyard Cafe, Mfuwe Your Discover Moment: Victoria Falls Your Local Living Moment: Kande Beach Local Dinner, Kande Beach Your Discover Moment: Nungwi. Khama Rhino Sanctuary Drive. Okavango Delta overnight bush camping excursion. Zanzibar excursion. Spice plantation tour. Entrances and wildlife safari drives in Serengeti National Park and the Ngorongoro Crater. All transport between destinations and to/from included activities.
TRIP
På förfrågan