Resmål
Bäst på äventyr
Prisvärda resor
Book & Go
Central American Journey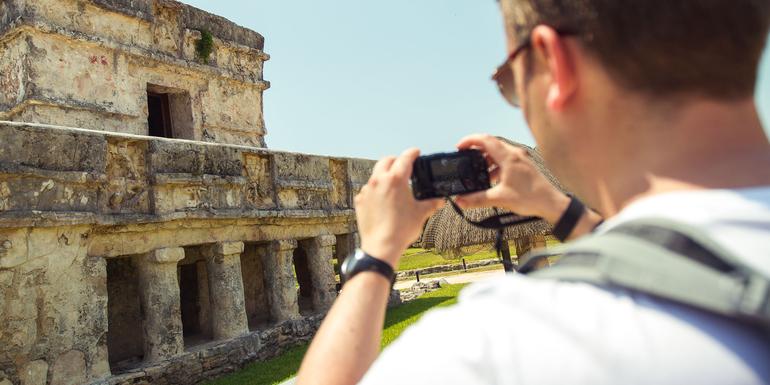 Central America
Startpunkt:
Playa del Carmen
Slutdestination:
San Jose
Escape the resorts and discover something extraordinary in Central America. Visit six countries on this classic adventure and experience mighty ruins, clear Caribbean waters, rainforests, and breathtaking scenery along the way. Explore indigenous Mayan villages and meet locals for an immersive experience that few travellers get to know. While you're free to choose your own adventure, your accommodation and transportation are included. Our expert CEOs will help you make the most of your time. Take a trip that's packed with all the things you need and nothing you don't 32 days of maximum adventure at minimum cost.
Highlights
Relax on white-sand beaches, explore the Mayan ruins of Copa¡n and Tikal, bargain at the local markets of colourful colonial Antigua, meet some local friends at G for Good homestays in Guatemala and Nicaragua, skip the bus and gain time (and comfort!) with a flight between Roatan and Managua.
Transport
Local bus, ferry, boat, van, taxi, plane, walking.
Accommodation
Simple hotels/hostels (28 nts, some multi-share), community guesthouse stay (2 nts), homestay (1 nt).
What's Included
Caye Caulker stay. Guided tour of Tikal. Orientation walk in Antigua and Granada. G Adventures-supported homestays with Guatemalan and Nicaraguan families. Group salsa lesson in Antigua. Beach time in Caye Caulker and Roata¡n. Internal flight. All transport between destinations and to/from included activities.
TRIP
Day 17 Antigua/Copa¡n
Cross the border to Honduras. Opt to soak in local hot springs in the jungle.
Day 18 Copa¡n
Free time in Copa¡n. Opt to visit the ruins of Copa¡n or explore the hills on horseback.
Day 19 Copa¡n/Roata¡n
After another full day of travel through the hills of Honduras, arrive at the Caribbean coast and ferry across to island paradise.
Days 20-21 Roata¡n
Free time in Roatan to enjoy optional activities.
Day 22 Roata¡n/Granada
Fly in style to Managua, then continue overland to Granada, Nicaragua.
Day 23 Granada
Enjoy free time to explore beautiful Granada's markets, buildings and museums. Opt to kayak in Lake Nicaragua or swim in Laguna de Apoyo.
Day 24 Granada
Free time to explore beautiful Granada's markets, buildings and museums. Opt to kayak in Lake Nicaragua or swim in Laguna de Apoyo.
Day 25 Granada/Isla de Ometepe (1D)
Get to know local friends during a 2-night G Adventures-supported community guesthouse stay on Ometepe. Try the cuisine, test out some language skills and even opt to climb a volcano or visit the local swimming hole.
Day 26 Isla de Ometepe (1B, 1D)
Free time in Ometepe.
Day 27 Isla de Ometepe/Monteverde (1B)
Take a ferry back to the mainland and cross the border into Costa Rica, finishing up in the cloudforest air of Monteverde.
Day 28 Monteverde
Free day in Monteverde. Opt to visit a cloud forest reserve, fly through the jungle canopy via zipline, or tour a coffee plantation.
Day 29 Monteverde/La Fortuna
Transfer to La Fortuna along bumpy roads, then break up the journey with a peaceful boat ride on Lake Arenal before a short ride to the town.
Day 30 La Fortuna
Free time to enjoy the La Fortuna and Arenal area.
Day 31 La Fortuna/San Jose
Journey through the mountains to the capital for a final night out.
Day 32 San Jose
Depart at any time.
På förfrågan