Resmål
Bäst på äventyr
Prisvärda resor
Book & Go
Central American Journey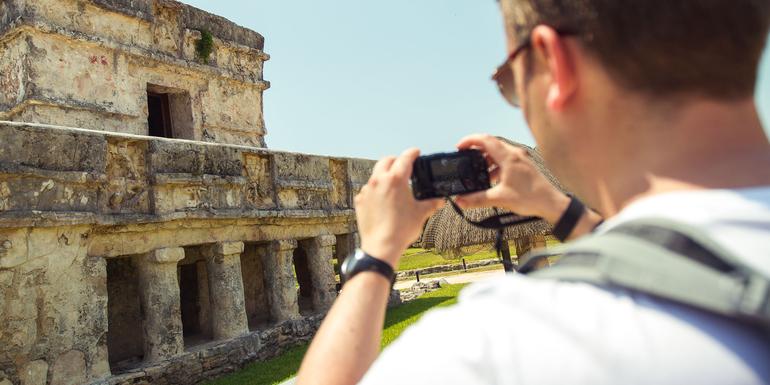 Central America
Startpunkt:
Playa del Carmen
Slutdestination:
San Jose
Escape the resorts and discover something extraordinary in Central America. Visit six countries on this classic adventure and experience mighty ruins, clear Caribbean waters, rainforests, and breathtaking scenery along the way. Explore indigenous Mayan villages and meet locals for an immersive experience that few travellers get to know. While you're free to choose your own adventure, your accommodation and transportation are included. Our expert CEOs will help you make the most of your time. Take a trip that's packed with all the things you need and nothing you don't 32 days of maximum adventure at minimum cost.
Highlights
Relax on white-sand beaches, explore the Mayan ruins of Copa¡n and Tikal, bargain at the local markets of colourful colonial Antigua, meet some local friends at a G Adventures for Good homestay in Guatemala, visit six countries in a month.
Transport
Local bus, ferry, boat, private vehicle, taxi, walking.
Accommodation
Simple hotels/hostels (30 nts, most multi-share), homestay (1 nt).
What's Included
G Adventures for Good: San Antonio Women's Pottery Cooperative and Local Lunch, San Ignacio G Adventures for Good: Posadas Mayas Homestay, San Juan La Laguna Big Night Out: Antigua Guatemala Big Night Out: La Fortuna Local Living: Coope San Juan Homestay, Canta³n de San Carlos. Guided tour of Tikal. Orientation walk in Antigua. Beach time in Caye Caulker and El Palmarcito. Free time in Suchitoto, Monteverde, and La Fortuna. Coope San Juan homestay. Rainforest walk. Internal flight. All transport between destinations and to/from included activities.
TRIP
Day 17 Antigua Guatemala/Copa¡n
Cross the border to Honduras. Opt to soak in local hot springs in the jungle.
Day 18 Copa¡n
Free time in Copa¡n. Opt to visit the ruins of Copa¡n or explore the hills on horseback.
Day 19 Copa¡n/Suchitoto (1D)
Cross the border into El Salvador and stay in the colonial town of Suchitoto. Don't forget to try the delicious pupusas, a local Salvadorian specialty.
Days 20-21 Roata¡n
Free time in Roatan to enjoy optional activities.
Day 22 Roata¡n/Granada
Fly in style to Managua, then continue overland to Granada, Nicaragua.
Day 23 Leon/Granada
Journey to Granada and see its colourful colonial buildings on an orientation walk. Enjoy a Big Night Out with the group.
Day 24 Playa El Tunco/Santa Teresa
Hop on a flight to Costa Rica, and travel to the coastal town of Santa Teresa. Kick back and enjoy this beach paradise.
Day 25 Santa Teresa
Try out surfing, visit Cabo Blanco NP, or just chill out on the beach. Don't miss the night life.
Day 26 Isla de Ometepe (1B, 1D)
Enjoy free time to explore Ometepe. Opt to climb Volcano Concepcion or Volcano Maderas, take a cultural tour, visit the beach at Santo Domingo, or visit el Ojo de Agua for a refreshing swim and lunch. You can also view pre-Columbian petroglyphs or the small museum of indigenous artifacts in Altagracia.
Day 25 Playa El Palmarcito/Monteverde
Hop on a flight to Costa Rica and travel through stunning Costa Rican scenery, finishing up in the cloud forest air of Monteverde.
Day 26 Monteverde (1D)
Free day in Monteverde. Opt to visit a cloud forest reserve, fly through the jungle canopy via zipline, or tour a coffee plantation.
Day 27 Monteverde/La Fortuna
Transfer to La Fortuna along bumpy roads, then break up the journey with a peaceful boat ride on Lake Arenal before a short ride to the town. Enjoy a Big Night Out with the group.
Day 28 La Fortuna
Free time to enjoy the La Fortuna and Arenal area.
Day 31 San Carlos/San Jose (1B)
Journey through the mountains to the capital for a final night out.
Day 32 San Jose
Depart at any time.
Day 20 Suchitoto (1B)
Enjoy a free day in Suchitoto.
Day 23 Concepcion de Ataco/Playa El Palmarcito (1B)
Enjoy a free morning in Suchitoto before heading to the coast. The sunsets in this surfing town are stunning. Grab a cold drink and enjoy!
Day 22 Playa El Tunco/Leon
Set off early for a full day of travel by land and sea to Nicaragua, finishing up in colonial Leon with a brief orientation walk.
Day 24 Playa El Palmarcito
Enjoy a free day in this laidback beach town to take a surf lesson, eat fresh ceviche at the fish market in nearby La Libertad, visit the Tamanique waterfalls, or chill out with a beer in hand.
Day 21 Suchitoto/Concepcion de Ataco
Travel to the 'Route of Flowers' region with its quaint Salvadorian towns and talented artisans.
Day 22 Concepcion de Ataco
Full day to explore the small town of Ataco or enjoy optional activities.
Day 29 La Fortuna/San Carlos (1D)
Enjoy a final free morning in La Fortuna for optional activities. In the afternoon, travel to San Carlos and to the rural community of Coope San Juan. Stay with a local family for an authentic Costa Rican experience.
Day 30 San Carlos (1B, 1L, 1D)
Enjoy a full day with your hosts at the Coope San Juan homestay. Go on a walk through the surrounding forest to learn about flora and fauna in the area, help harvest cassava, and join a cooking demo to make enyucados a local speciality. In the afternoon, enjoy free time and opt to go mountain biking or fishing, or relax in the village and practice your Spanish.
På förfrågan