Resmål
Bäst på äventyr
Prisvärda resor
Book & Go
Southeast Asia Uncovered
Asia
Startpunkt:
Kuala Lumpur
Slutdestination:
Chiang Mai
Taking in the wonders of Southeast Asia shouldn't be a hassle. We've made it easy for you to see all the main highlights plus this region's smaller hidden gems by putting together this handy trip beginning in Kuala Lumpur and heading north into Thailand. You'll get a taste of history in Kanchanaburi, experience multi-cultural (and delicious) Penang, sleep in a traditional floating rafthouse, and roam the famous night market of Chiang Mai. Along the way, there'll be plenty of chances to lounge on white-sand beaches and indulge in diverse and flavourful cuisine. Cross Southeast Asia off your travel destination list with this all-encompassing journey.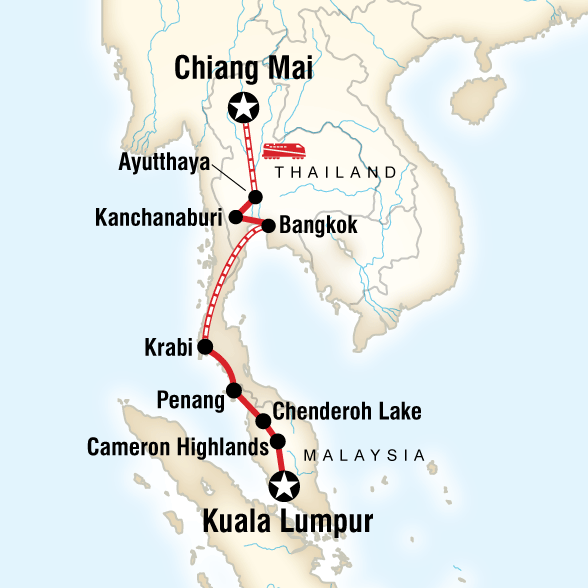 What's Included
Local Living: Chenderoh Lake Homestay, Chenderoh Lake Local Living: Overnight Rafthouse Excursion, Kanchanaburi. Kuala Lumpur city tour (half-day). Rainforest Expedition (Cameron Highlands). Homestay experience. Penang city tour (half-day). Beach time in Ao Nang. Bangkok city tour. Klong riverboat tour (Bangkok). Wat Po Visit. Erawan Falls and Bridge on the River Kwai visit (Kanchanaburi). Rafthouse stay. Temple ruins tour (Ayutthaya). Thai Burma Railway Centre visit. Doi Suthep temple visit (Chiang Mai). All transport between destinations and to/from included activities.
Highlights
Bargain hunt in bustling Kuala Lumpur, relax at the cool tea stations of the Cameron Highlands, lounge on white-sand beaches, go local with a Malaysian homestay, explore magnificent temples and palaces, sleep in a floating rafthouse
Accommodation
Hotels/guesthouses (11 nts), homestay (2 nts), rafthouse (1 nt), sleeper train (2 nt).
Transport
Train, local bus, private van, ferry, songthaew, walking
TRIP
Day 12 Bangkok/Kanchanaburi (1B, 1D)
Enjoy a klong boat tour of Bangkok including a visit to Wat Pho. Travel to Kanchanaburi and head to your floating rafthouse accommodation. Enjoy free time to explore.
Day 13 Kanchanaburi (1B)
Enjoy a day of sightseeing at Erawan Falls and the Bridge on the River Kwai. Explore the Allied War Cemetery, the Thai-Burmese Railway Centre and the JEATH War Museum to learn more about the area's history.
Day 14 Kanchanaburi to Ayutthaya (1B)
Travel to Ayutthaya and visit the historical sites of the old capital city. Opt to visit Chan Kasem National Museum and Chao Sam Phraya Museum.
Day 15 Ayutthaya to Chiang Mai (1B)
Spend a full day exploring Ayutthaya before boarding an overnight train to Chiang Mai.
Day 16 Chiang Mai
Arrive in Chiang Mai and explore the city. Visit Doi Suthep in the afternoon.
Day 17 Chiang Mai (1B)
Depart at any time.
Day 5 Cameron Highlands/Chenderoh Lake (1D)
Travel to a local island homestay in the middle of a scenic lake. Enjoy connecting with the locals and taking in the scenery.
Day 11 Bangkok
Arrive in Bangkok in the morning and take a guided tour of the city. Opt to visit to the Grand Palace, Wat Po, the National Museum, or shop on Khao San Road.
På förfrågan