Resmål
Bäst på äventyr
Prisvärda resor
Book & Go
Amazon Riverboat Adventure aboard the Amatista
South America
Startpunkt:
Lima
Slutdestination:
Lima
Hop aboard a riverboat and experience the Amazon in style. Led by an Amazon Reserve naturalist guide, your cruise will include daily excursions by motorized skiff designed to reveal the exotic wildlife that calls the rainforest home with any luck you'll spot sloths, toucans, or pink dolphins! And, with two full days for exploration in PacayaSamiria National Reserve, you'll have the chance to experience the jungle up close. The cuisine on board is regional and provides a unique and delicious window into local culture. Gain a rare glimpse of how life "on the river" is lived and experience the magic of the Amazon on this once-in-a-lifetime riverboat adventure.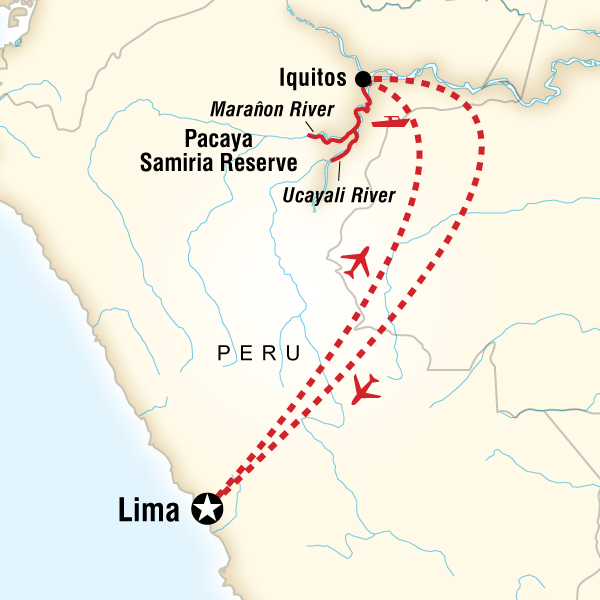 What's Included
Your Local Living Moment: Local Indigenous Family Visit, Pacaya Samiria National Reserve Your Wellness Moment: Local Shaman Visit, Pacaya Samiria National Reserve. Arrival transfer. Cruise aboard the Amatista Amazon Riverboat (6 nts). Orientation tour of Iquitos. Launches and land excursions with our expert naturalist team. Internal flights. All transport between destinations and to/from included activities.
Highlights
Explore the Pacaya-Samiria National Reserve - the largest national park in Peru, dine on food fresh from the jungle, spot pink dolphins on the Amazon River, interact with members of the local community, learn the intricacies of Amazon wildlife
Transport
Amazon riverboat, plane, private bus.
Accommodation
Aboard the Amatista Amazon riverboat (6 nts), upgraded hotels (2 nts).
TRIP
Day 1 Lima
Arrive at any time (arrival transfer included).
Day 2 Lima/Ra­o Maraa±on (1B, 1L, 1D)
Fly to Iquitos. Take a city orientation tour and visit a manatee rescue centre. Transfer to the boat and cast off onto the Amazon River.
Day 3 Ra­o Maraa±on/Ra­o Ucayali (1B, 1L, 1D)
Begin to explore with a boat excursion on the Amazon River and some of its tributaries to see the wonders of the rainforest. After lunch, enjoy a presentation on the Amazon River then walk along the shores of the Ucayali River.
Day 4 Ra­o Ucayali/Pacaya-Samiria National Reserve (1B, 1L, 1D)
Take a morning skiff excursion into the Pacaya-Samiria National Reserve for more wildlife viewing. In the afternoon, visit a village to meet a local shaman and discover the mystical world of spiritual healing.
Day 5 Pacaya-Samiria National Reserve (1B, 1L, 1D)
Today get off the boat and meet a local family, enjoy a home cooked meal and experience the Indigenous culture. At night take a boat to go search for wildlife that comes active after dark.
Day 6 Pacaya Samiria National Reserve (1B, 1L, 1D)
Take a trip to explore Choroyacu, go piranha fishing, and explore the mangroves in a dugout canoe. Opt to go swimming in the Amazon. In the evening, go on another night wildlife excursion.
Day 7 Pacaya Samiria National Reserve/Iquitos (1B, 1L, 1D)
Return to Iquitos with en-route stops at the Sapisapi River and the port town of Nauta.
Day 8 Iquitos/Lima (1B)
Disembark at Iquitos. Transfer to the airport for the flight back to Lima. Free afternoon to explore the capital of Peru.
Day 9 Lima (1B)
Depart at any time.
Day 2 Lima/Iquitos (1B, 1L, 1D)
Catch an early flight to Iquitos and transfer to the Amazon Riverboat. The river exploration begins with two boat excursions by motorized skiff, one during the day and one at night. Watch as the jungle comes alive with nocturnal species at nighttime. During free time, relax on board and soak in the natural beauty.
På förfrågan