Resmål
Bäst på äventyr
Prisvärda resor
Book & Go
The Best of Eastern Europe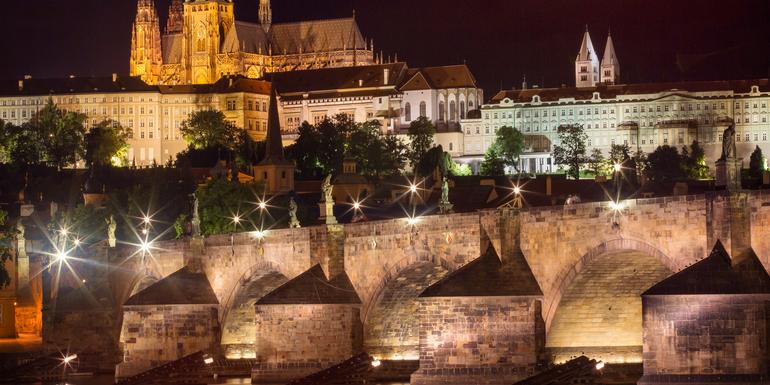 Europe
Startpunkt:
Berlin
Slutdestination:
Budapest
From fairytale Czech towns to Budapest, the "Pearl of the Danube," experience the unique culture, food, and history of Eastern Europe. This two-week trip through six Eastern European countries offers an intriguing combination of urban centres, village life, and outdoor pursuits. Visit castles, churches, and romantic town squares, indulging in Berlin's cafe culture and Prague's beer.
Accommodation
Hotels (13 nts).
Transport
Train, long-distance bus, local bus, walking
What's Included
G Adventures for Good: Magdas Hotel, Vienna Carte Blanche: Berlin Carte Blanche: Budapest. Orientation tour of Krakow. Auschwitz entrance and guided tour (Krakow). Orientation walk of Prague. Vienna walking tour. All transport between destinations and to/from included activities.
Highlights
Explore historic medieval cities, explore world-class museums, savour the cafa© culture of Europe, opt for a soak in Budapest's famous baths, experience Krakow's eastern charm
TRIP
Day 1 Berlin
Arrive at any time.
Day 2 Berlin (1B)
Explore this amazing city. Opt to visit the East Side Gallery, Checkpoint Charlie, world-class museums, the Reichstag or the Berlin Television Tower for a sweeping view of the area.
Day 3 Berlin/Krakow (1B)
Travel to Krakow, Poland's cultural hub, visiting quaint villages along the way. Take an orientation walk upon arrival and use the evening to explore this lively city.
Days 4-5 Krakow
Visit Auschwitz for a sobering look at the region's history. Spend the rest of the day exploring charming Krakow.
Day 6 Krakow/Prague (1B)
Take a scenic day train into Czech Republic. Soak up the atmosphere of Prague, a unique community where every street, ghetto, inn and theatre tells a story.
Days 7-8 Prague
Enjoy an orientation walk with your CEO before exploring all Prague has to offer. Opt to visit the famous Charles Bridge, the clock tower in the main square or a traditional Czech beer hall with serious helpings of meat and potatoes.
Day 9 Prague/ÄŒeska½ Krumlov (1B)
Travel to ÄŒeska½ Krumlov. Spend time wandering the small city or visiting the small town's castle.
Day 10 ÄŒeska½ Krumlov/Vienna (1B)
Take private van to Austria in time for a walking tour of Vienna's most beautiful sights, including the Hofburg and St Stephen's Cathedral. Later, check in to your accommodation in Vienna, a G Adventures supported hotel stay.
Day 11 Vienna (1B)
Wander the elegant streets a little more, take in some of Europe's most distinguished art galleries or just settle yourself on a cafe terrace, order up a slice of mouthwatering Viennese cake and watch the world go by over coffee.
Day 12 Vienna/Budapest (1B)
Travel to Hungary to explore the beautiful city of Budapest. Opt to visit Buda Castle, window shop in Pest or soak in the city's famous thermal baths.
Day 14 Budapest (1B)
Depart at any time.
Day 5 Krakow (1B)
Take a free day to explore.
Day 13 Budapest (1B)
Spend a free day exploring this charming and historic city. Opt to take a boat trip down the Danube, or travel further afield to the Etyek wine country.
På förfrågan