Resmål
Bäst på äventyr
Prisvärda resor
Book & Go
Galapagos Land & Sea - Central & East aboard the Xavier III
South America
Startpunkt:
Quito
Slutdestination:
Quito
Encounter the island chain that has enchanted explorers since Darwin first weighed anchor off its shores. Begin with a night spent at a deluxe hotel on San Cristobal, then take four days to explore the incredible wildlife of the Galapagos archipelago in the company of an expert naturalist guide. Giant tortoises, sea lions and island birds are in abundance here, and you'll have the chance to spot them all in visits to Santiago Island, Punta Pitt, and Cerra Brujo islands, and many more fascinating locales. In the evenings, return to the Xavier III to reflect on the day's adventure under a canopy of stars.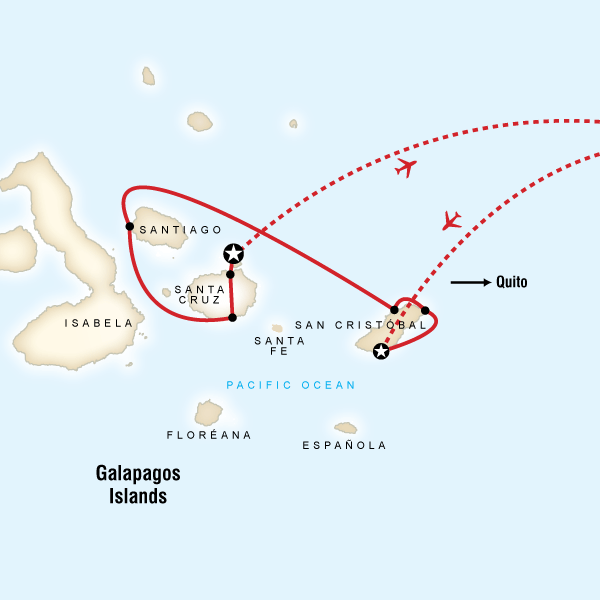 What's Included
Arrival transfer on Day 1. Certified Gala¡pagos National Park guide. All landings, excursions, and transportation. Flights to and from the Gala¡pagos Islands. Snorkelling equipment. Visit to a wildlife interpretation centre.
Highlights
1 night on San Cristobal, 3 nights cruising through the Gala¡pagos National Park aboard the Xavier III, visit to see the giant tortoises, watching three species of boobies and two species of frigatebirds nesting together at Punta Pitt, snorkelling with rays and sea turtles in the shadow of Kicker Rock, witnessing the towering volcanic cliffs and the dark-sand beaches of Santiago island.
Transport
Local flight, Xavier motorized yacht, van, Zodiac, private bus.
Accommodation
Hotel (2 nts) in Quito, hotel in San Cristobal (1 nt), aboard Xavier III in twin-share cabins (3 nts).
TRIP
Day 3 Puerto Baquerizo Moreno (1B, 1L, 1D)
In the morning, enjoy a snorkel excursion at Islas Lobos. Visit a nearby beach and be welcomed by frolicking sea lions. Enjoy the beach's tranquil environment it's perfect for snorkelling and photography. The area is is also a nesting ground for blue-footed boobies. After transferring to the boat in the afternoon, visit the tortoise breeding centre and have the chance to see tortoises in their natural habitat.
På förfrågan